Nestled in the serene Ninh Khieu River, just a short drive from the center of Hanoi, Asean Resort & Spa with its truly dreamlike landscape features an ideal destination for accommodation, dining, conferencing and entertainment all year round. Challenge yourself 8 par-3 and 1 par-4 golf course with GOLF24H, savour authentic local cuisine with our modern restaurants, enjoy a hub of amenities and services such as four-season UV purified swimming pools, an award-winning Spa, famous Jacuzzi pools, grass-sliding and other truly Vietnamese activities.
ASEAN GOLF24H is nestled within ASEAN Resort & Spa, 21A Hoa Lac, Thach That, Hanoi. Only 30 minute drive away from the center of the capital city- Hanoi, ASEAN Resort & Spa is a leading luxury resort complex built on the area of nearly 20 hectares which offers modern villas, Vietnamese traditional bungalow, multi-purpose Jacuzzi, swimming pools, restaurants, conference rooms and recreational areas.
ASEAN GOLF 24h is a 9-hole golf course which has 8 par-3 holes and 1 par-4 hole. Meandering around villa areas and harmonizing with Ninh Khieu River, with the area of 5 hectares, the par-3 holes have the distance ranging from 60 yards to 120 yards while the par 4 alone is 250 yards in length, which will be a great challenge for golfers.
Developing conferences and meetings services for seminars and events is one of the most strategic objectives of ASEAN Resort & Spa. Fully-equipped meeting rooms and event areas are sure to meet every single customer's need.
It would be great to play a round of golf at ASEAN GOLF 24h for less than 2 hours. Both successful businessmen and golf loverscan take time to play golf after a stressful day of work.Coming to ASEAN GOLF 24h, you will relax and regain your energy with gorgeous ball swing paths.
After intense conference and meetings, enjoy our state-of-the-art services and utilities right inside Asean Resort & Spa. Refresh yourself in four-seasons UV purified swimming pools, bathe in our unique diverse system of Jacuzzi including Rose, Chrysanthemum, Folkleaves, Red Wine, Salted Ginger, Mud bath, Milk bath. Calm yourself in our Dry and Wet Sauna room or relax in our professional Massage services in one of the largest Spa Complex in Vietnam
After the conference, the workshop stressed,, visitors can enjoy the superior services and utilities right inside ASEAN Resort & Spa.
With ASEAN, visitors will not only play golf in a reasonable period of time but also feel the traditional tastes through the resort's scenery, the décor and most importantly, our local dishes at the Restaurants of ASEAN Resort & Spa.
As a combination of luxurious modernity and Vietnamese traditions, ASEAN Resort & Spa is an attractive destination for weekend, the perfect place to spend time with your family, friends and also your colleagues in conferences and important meetings
PRICE LIST OF ASEAN GOLF24H
Updated: 1/ May/ 2020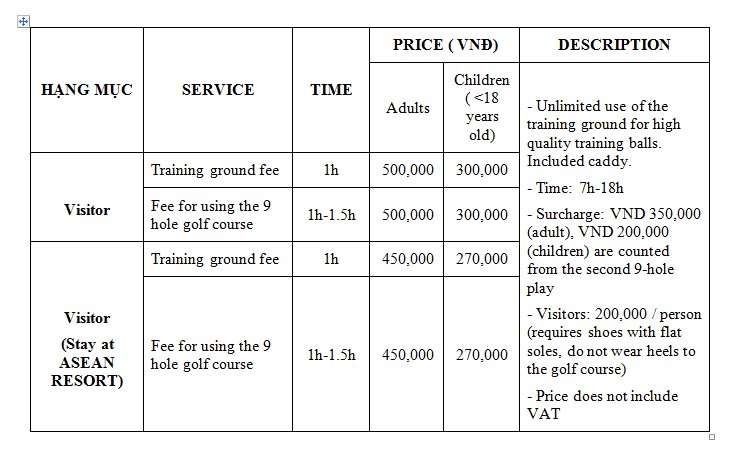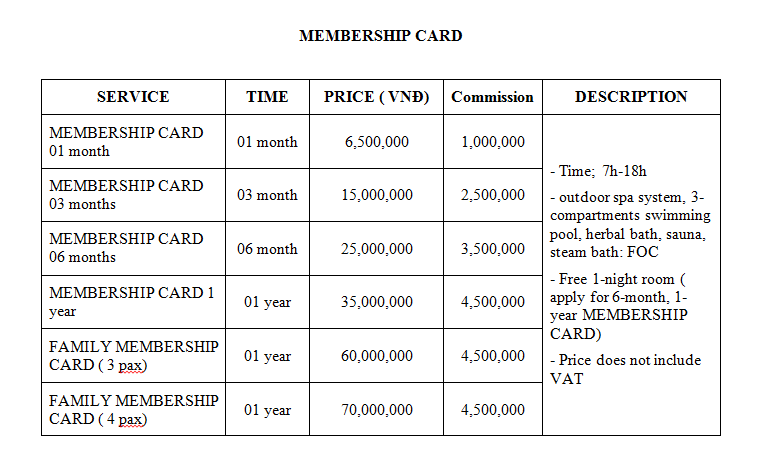 RENTAL SERVICE
| | | |
| --- | --- | --- |
| SERVICE | PRICE ( VNĐ) | DESCRIPTION |
| Golf-clubs | 400,000 | A set of clubs including iron canes, wooden sticks, canes and bags |
| Shoes | 200,000 | Golf shoes |
CADDY AND LIGHTS ON
| | | | |
| --- | --- | --- | --- |
| SERVICE | TIME | PRICE ( VNĐ) | DESCRIPTION |
| CADDY | 01 round/ 9 hole | 100,000 | Time: 1h-1,5h |
| LIGHTS ON | 01 round / 9 holes | 200,000 | – Night light works for groups of 8 guests or more – Surcharge: 100,000 VND, from the second round of 9 holes |